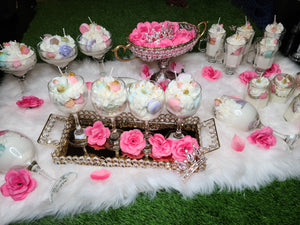 Our Premium Organic Boj Cocktail Candle is made of natural soy in cocktail glasses and Pretty as a Picture for all of your special occasions..
Weddings, Bridal showers, Baby Showers, Birthday Celebrations, Anniversaries, Gender Reveals, Wedding Parties and Divorce Parties and more. Did you know our soy candles can be used as a moisturizer? Yes, they are soy and melt into moisturizing oil you can use as an massage oil.
Customize your candle... to your events color scheme. Tell us in the (ADD NOTE TO YOUR ORDER) located in the cart section. Your occasion, colors and select your package. 
Our packages begin at $150.
10 for $500
15 for $750
20 for $1000
25 for $1250
30 for $1500